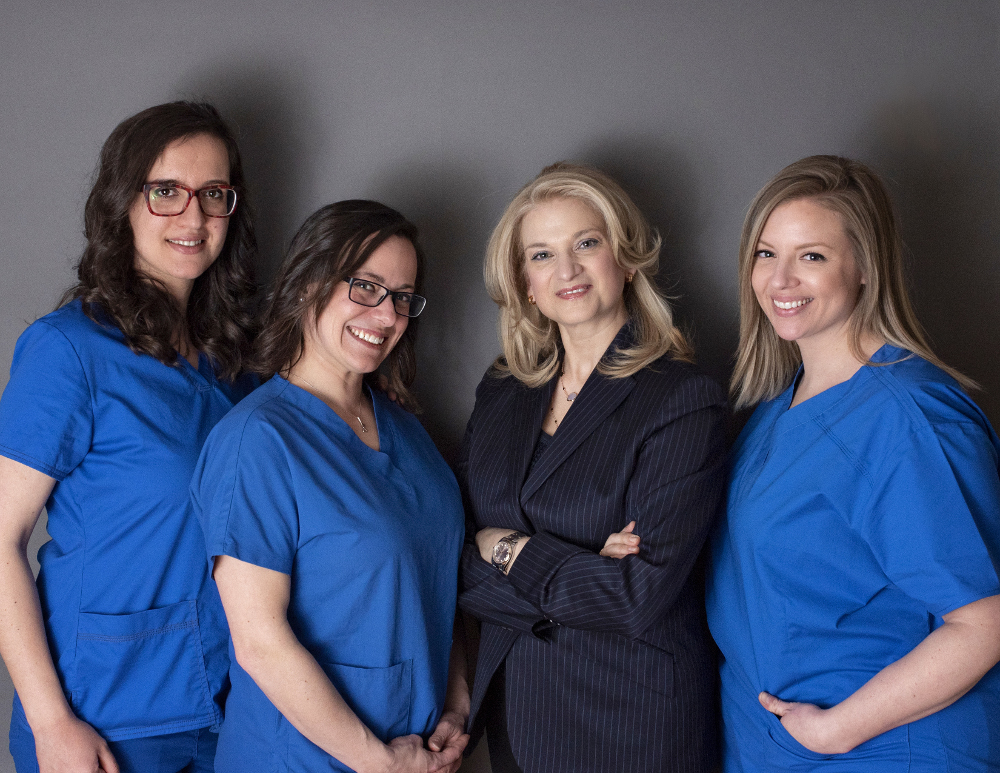 For most people, achieving a healthy, beautiful smile is the reason for receiving orthodontic care. If you're self-conscious about your smile, correcting your concerns with braces will greatly improve the way you look and feel.
When your treatment is complete, you will have the smile you've always dreamed of and the confidence to show it off! We also want you to feel comfortable and confident throughout your entire orthodontic experience, and our practice is dedicated to making sure that you receive the quality care you deserve.
How Orthodontic Treatment Works
Orthodontic appliances are made of metal, ceramic, or plastic. They may be removable or they may be brackets bonded to the teeth. By placing a constant, gentle force in a carefully controlled direction, braces slowly move teeth to the proper position.
Gone are the days when a metal band with a bracket was placed around each tooth. You can now choose clear or metal brackets and, in some cases, the color of your appliance. Wires are far less noticeable, and the latest materials are designed to move teeth faster with more comfort. Today, any age is a great age to wear braces!
Duration of Treatment
Treatment time varies and can last between one and three years, depending on several factors including age, treatment method, and how minor or severe your case is. A big factor in a successful treatment is you! The more involved and diligent you are, the more efficient your treatment will be. For children, receiving interceptive or early treatment can also help provide a quicker treatment time.
Before beginning your orthodontic care, your doctor will discuss all of your options and provide an estimate for how long your full treatment may take. Please contact our practice to schedule an appointment and learn more about orthodontics and the treatments we provide.
You are our top priority
Here, you and your family come first. We promise to treat you exactly as we would treat ours. We promise that your treatment will be of high quality, discreet, gentle, and affordable.
Dr. Vicky Cartsos is a leading expert in Orthodontics, a teacher and mentor of dentists who train to become orthodontists, and most importantly a highly trained doctor with the experience and expertise to create smiles that contribute to wellbeing and success.
Did you know that people who have nice smiles and favorable facial esthetics tend to be more successful in life? Together with our team, Dr. Grant Murray & Dr. Avani Khera, pediatric dentists, our hygienists Deidre, Laura and Pat, and our dental assistants Danayt, Laura, Maria, Mercedes and Michele, we strive to create a warm, cheerful atmosphere where care is planned and delivered seamlessly and expeditiously. For beautiful, long lasting smiles.
We Accept Most Major Insurances
Most plans accepted. Please call our front desk at 617-735-0800 to inquire about specific plans.
If you have no insurance, please ask us about payment plans and CareCredit finance options.
Proper Time to Start With Orthodontics
Most orthodontic treatments start around the age of 12 years, when the baby teeth exfoliate. However, there is a whole range of malocclusions that must be addressed as early as 6 years old. Equally important, orthodontists now serve an ever growing adult population. Today's technology and orthodontic science allows for satisfying discreet orthodontic therapy regardless of age. Our only strict requirement is a passion for self-improvement and renewal.
If you feel you or your child needs orthodontics, please call 617-735-0800 to make an appointment for a complimentary consultation.
Preparing for the 1st complimentary consultation
Please download and fill out the medical history form and the insurance information.
Please be ready to discuss about medications you receive, allergies, life style requirements, etc.
Make a copy of the dental and medical insurance cards, and bring them with you.
If you transfer from another dental practice, please request that records and x-rays are sent via email to convivialdental@comcast.net
Be ready to discuss your preferences on specific orthodontic methods or appliances. Would you prefer braces (clear or metal?) or Invisalign clear aligners?