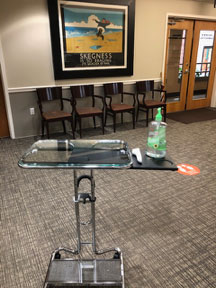 We are pleased to inform you that as Tuesday, May 26th, Convivial Dental participates in the re-opening plan of the State of Massachusetts.
Our community has been through a lot due to the Covid-19 pandemic these past few months, and all of us are looking forward to resuming our normal habits and routines.
While adjusting to the new normal, one thing has remained constant in our practice, our commitment to your safety and comfort.
With new protocols and multiple new safety measures in place, we have gone above and beyond official guidelines to ensure the safety and health of our patients, staff and doctors.
A brief description of the many changes may be found in the linked letter and poster and on the website. We encourage you to read the relevant materials as they contain information about the new processes as instructed by Governor Baker and the Department of Public Health.
Our office is ready once again to provide outstanding care to you and your family and the highest level of infection control.
Please call 617-735-0800 to schedule your appointment.
New Protocols
Convivial Dental's new "Virtual Waiting Room"
Tele-Dentistry
For families that prefer to have a remote, virtual consultation Convivial Dental has set up a new technology that allows just that, a seamless virtual HIPAA compliant connection with our doctors.
To participate in this service you must first set up the appointment with the dentist or orthodontist.
At the time of the appointment please use your computer's browser to go to the doxy.me web site
For appointments with orthodontist Dr. Vicky Cartsos, please type https://doxy.me/drcartsos
For appointments with Dr. Zavras, Dr. Ford or Dr. Liapaki, please type https://doxy.me/convivialdental
You will be placed in the virtual waiting room and subsequently admitted to the consultation once the doctor is ready.