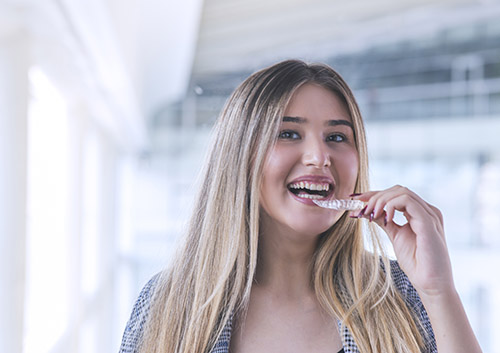 Some experiences are great, and we look forward to enjoying them again and again. Others have wonderful outcomes, but you feel no need for a sequel. If you're wondering whether you need to revisit orthodontic treatment, you're probably in this second group.
After all, you put in your time as a teenager. All those days in bands and braces, all the adjustments, all that cleaning with little tiny tools in little tiny places. That was a lot of work, and you reaped the rewards of your conscientious orthodontic habits with beautifully aligned teeth and a healthy, comfortable bite.
But now you've started to notice that your teeth aren't quite as beautifully aligned, or your bite's not quite as comfortable. So, what's happened? Let's look at some possibilities, and whether a return to the orthodontist's office is in order.
If you've lost a tooth because of injury or decay, that gap is an open invitation for surrounding teeth to move in to fill the void. Whenever you lose a tooth, consider an implant. Implants function, look, and maintain healthy spacing just like natural teeth.
One thing implants can't do? Move like our own teeth will during orthodontic treatment. Your natural teeth can move because they are held in place within the bone by flexible periodontal ligaments. Implants, on the other hand, are anchored directly to the bone for stability.
If you're considering new or further orthodontic work and want to replace a lost tooth with an implant, it's a good idea to talk to Drs. Cartsos and Zavras to discover the best timing and scheduling for your procedures.
Problems with your alignment can also arise if you add a tooth or teeth. If you're in your late teens or early twenties, wisdom teeth could be in your near future. And a new tooth can throw off the spacing and alignment of your existing teeth.
Talk to Drs. Cartsos and Zavras about your options if your wisdom teeth are about to make an appearance, and if it looks like your tooth and bite alignment might be affected.
Our teeth naturally tend to shift as we age. Teeth move forward, causing crowded or crooked front teeth—especially on the lower jaw. There's even a medical term for this phenomenon: mesial drift. While we don't know exactly why this drifting occurs, we can treat it.
Adults make up a large—and growing—segment of orthodontic patients. If your teeth have lost their ideal alignment over time, a visit to our Chestnut Hill, Massachusetts office is a great way to bring your youthful smile back. And you'll probably find your treatment much shorter and more comfortable than it was decades earlier!
You Haven't Been Wearing Your Retainer
Remember that word "conscientious" in the second paragraph? You need to wear your retainer conscientiously, for as often and for as long as recommended by Drs. Cartsos and Zavras.
If you've been ignoring a damaged retainer, or you keep forgetting to look for your lost retainer, or you have a perfect, undamaged retainer sitting unworn on your dresser, your teeth can start to shift out of their hard-won alignment within a short time.
Does this mean it's back to months of bands and adjustments and appointments? Maybe not! See us as soon as you notice any changes in your teeth or bite. When caught early, shifting teeth can be treated much more easily.
What can we do to help you regain your best smile? A lot!
When you need to accommodate implants, wisdom teeth, or other dental work which could affect your tooth alignment, Drs. Cartsos and Zavras can work with your dentist to make sure your alignment isn't disturbed in the process. They can also map out a treatment schedule which coordinates your other procedures with any orthodontic treatment.
Retainer Evaluation/Adjustment
Your retainer is probably a passive retainer, meaning it keeps your teeth in place instead of moving them. If you notice your alignment shifting, or if your retainer is uncomfortable when you try to put it on after a lapse in nightly wear, ask us about a replacement.
An active retainer helps move teeth into alignment rather than simply keeping them in place. A new active retainer might be just what you need to correct a slight shift.
If you have some serious shifting going on, we might recommend a second round of treatment with clear aligners or braces. But there's good news here, as well! Treatment to correct an orthodontic relapse usually takes less time than it did originally, and treatment options are more comfortable and less noticeable than ever before.
Talk to Drs. Cartsos and Zavras about an orthodontic sequel if you have any concerns about changes in your bite or alignment. You might need only a simple retainer adjustment or a short time in clear aligners or traditional braces to make your smile its best and healthiest once again. And this time, remember to wear your retainer to make sure there's no need for Orthodontics—Part III!