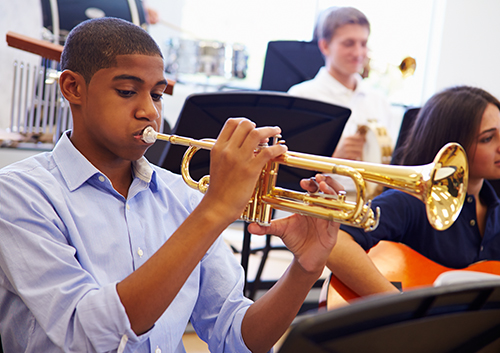 You're in the band and you're getting braces. Now what? If you are a member of the string or percussion sections, you can go back to rehearsal. You're good to go. When your talents have seated you in the reed or brass sections, though, a little adjustment might be necessary to keep your instrument and your braces working in harmony.
If you play a wind instrument, you know the term embouchure—the way you position and use your lips, tongue, facial muscles, and teeth to produce the sound you want. Depending on the instrument you play, you might be completely unaffected when you get your braces, or you might need to develop a more comfortable embouchure to accommodate them.
Wires and Woodwinds?
If you play a wind instrument such as the flute or piccolo, you might find that your normal lip positioning or blowing angle is affected by your braces, but usually the adjustment time is fairly short. Reed instruments such as the saxophone, clarinet, oboe, and bassoon are considered some of the easiest to adjust to when you have braces, but even though the single and double reed mouthpieces don't require as much pressure as brass instruments, there can still be an adjustment period. One thing you should look out for is more condensation in your mouthpiece or instrument—be sure to keep your instrument clean to keep your sound pure.
Brackets and Brass?
Brass instruments require mouthpiece pressure. This leaves your lips pressed between the mouthpiece and your braces. For this reason, many brass players have a more challenging adjustment when wearing braces. Smaller mouthpieces (trumpet, French horn) usually require more pressure than larger ones (tuba, trombone). It's important to learn how to use technique to avoid cuts, irritation, and other injuries caused by the pressure of your braces against your lips. Learning to play with less pressure on the lips and more air control and breath support will help you to recover your tone and range of notes while protecting your lips and mouth.
How Can We Help?
Let Drs. Cartsos and Zavras know if you play, or plan to play, a wind instrument. We might be able to offer some suggestions. For regular metal and ceramic braces, some musicians find extra wax is helpful in preventing lip and cheek injuries. There are brace guards available that can be applied over the braces to protect your lips and mouth if wax doesn't do the trick.
There are also alternatives to regular bracket-and-wire braces, depending on your orthodontic needs, cost factors, and length of treatment. Invisalign® devices fit smoothly over your teeth and can even be removed when it is time to practice or play, as long as you get the necessary hours of wear in per day. In some cases, lingual braces, where the brackets and wires are placed behind the teeth, might be the best choice for you.
Finally, don't forget to talk to your music instructor. Don't be dismayed if you find the quality of your playing has been affected. Your teacher might have valuable suggestions for adjusting your embouchure, playing with less pressure on the lips, and developing better air and breath support. You might need to shorten your practice time at first, and there might be another period of adjustment after your braces come off.
Above all, take care of yourself! If something is poking your lip or cheek, call our Chestnut Hill, Massachusetts office immediately before it causes injury. It might be difficult at first, but finding an embouchure that works for your comfort and technique is worth it. And remember, these temporary fine-tunings will lead to a wonderful coda: skilled musicianship and a beautiful, healthy smile. Bravo!